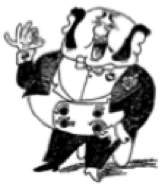 Fra denne side kan du gratis downloade noder i PDF-format.
Programnoter, tekster og anmeldelser af nogle af værkerne kan findes
her.
Du er altid velkommen til at sende en mail til jf@JohnFrandsen.eu hvis du ønsker yderligere materiale eller oplysninger om musikken.
From this site you can download
scores in PDF format.
Program notes, texts etc. to some of the works can be found here.
You are always welcome to send an e-mail to jf@JohnFrandsen.eu
if you need further information.
Sang og klaver
Winternächte (1989) Hermann Hesse
Lystens Liturgi (1993) Pia Tafdrup & Højsangen
Seven Silly Songs (2007-version) Anonym
Rummet, hvor jeg engang boede (1990) Henrik Nordbrandt
Den Moderne Romantiker (2017) ny musik til klassiske liedtekster
Sang og guitar
Songs of Innocence (1983/1984) William Blake
Songs of Experience (1991) William Blake
Seven Silly Songs (1987) Anonym
Besigtigelse af en Afgrund (2010) Ursula Andkjær Olsen
Sang og orgel
Stabat Mater (1986) Jacopone da Todi
Lilien og Fuglen (1987) Søren Kierkegaard
Sange fra Angstens Riger (1992) Ole Sarvig
1. Å Gud, min Angst er såre stor
2. Den varsomhed, hvormed Du led
Seks Grotrian-salmer (2009) Simon Grotrian
Fem Maria Hymner (2022)
Sang og viola
Winternächte (1989) Hermann Hesse
Sang og ensemble
for sopran, fløjte, cello & accordeon
Amalies Adieu (1986) Amalie Skram
scenisk monolog for sopran og kammerensemble
White Shadows (1994) Pia Tafdrup, tranl. Roger Greenwald
for mezzo, piano, percussion, viola & kontrabas
Skyggespil (2009) Henrik Nordbrandt
for baryton, fløjte, klarinet, guitar, accordeon & cello
At the Yellow Emperor's Time (2003) Sanne Bjerg
for sopran og orkester
Uroligt Requiem (2019) Søren Ulrik Thomsen
for kontratenor og sinfonietta
Sang og symfoniorkester
Seven Silly Songs (2005) Anonym
Sulamith og Salomon (1994) P.E.Lange-Müller / B.S.Ingemann