Songs of Innocence (1983/84)
Songs of Experience (1991)
Partiturer
"Songs of Innocence" blev uropført ved NUMUS Festivalen 1984 i Århus
af Ellen Lunde, sopran og Erling Møldrup, guitar
"Songs of Experience" blev uropført i Carnegie Hall, New York
af John Laursen, tenor og Curt Kollavik, guitar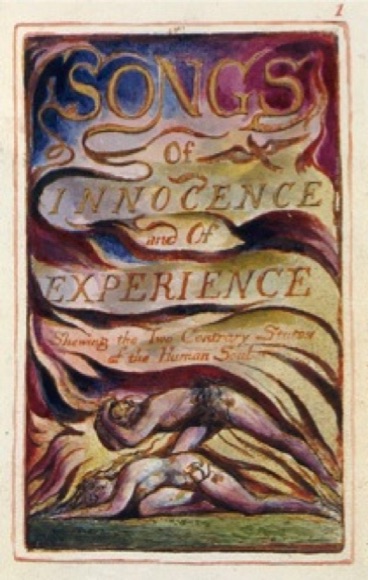 Det originale titelblad til
William Blake: Songs og Innocence
and Experience (1794)
To sangcyklus'er til tekster af den engelske digter og grafiker William Blake (1757-1827). Den første – "Songs of Innocence" – har barndommens uskyld og naivitet som grundtone; den anden – "Songs of Experience" – handler om den tabte uskyld, om dyrekøbte erfaringer og bristede illusioner. Allerede fra Blake's hånd er de to digtcyklus'er tænkt som kommentarer til hinanden - der er adskillige af digtene i "Songs of Experience" der direkte refererer til og kommenterer "Innocence"-digte. På tilsvarende måde har jeg forsøgt at skabe musikalske paralleller mellem de to værker - at finde et tonesprog, der lige fuldt udtrykker deres fællespræg og deres kontrast.
Blake var poet, grafiker, profet, medie... Hans billedsprog og hans raderinger lader ikke beat-generationens største syrehoveder noget efter. Hans digte er en uafbrudt hyldest til kærlighed, skønhed og poesi; men ikke uden bevidsthed og skarpe ord om alt det i verden, der arbejder imod. Hans Earth's Answer fra samlingen "Songs of Experience" kunne være en besk kommentar til vor tids store klimaudfordring:
Earth raised up her head
From the darkness dread & drear.
Her light fled,
Stony dread!
And her locks cover'd with grey despair.
``Prison'd on wat'ry shore,
Starry Jealousy does keep my den:
Cold and hoar,
Weeping o'er,
I hear the father of the ancient men.
``Selfish father of men!
Cruel, jealous, selfish fear!
Can delight,
Chain'd in night,
The virgins of youth and morning bear?
``Does spring hide its joy
When buds and blossoms grow?
Does the sower
Sow by night,
Or the plowman in darkness plow?
``Break this heavy chain
That does freeze my bones around.
Selfish! vain!
Eternal bane!
That free Love with bondage bound.''
Ikke sandt!? Klar tale - midt imod alt det i vores livsførelse, der truer det eneste, der i virkeligheden gør livet værd at leve: kærligheden.
John Frandsen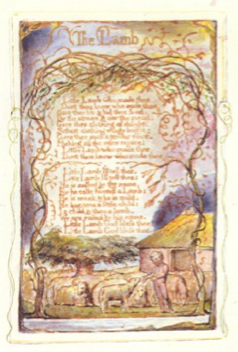 The Garden of Love
(af: Songs of Experience)
Lise Davidsen, sopran
Jesper Sivebæk, guitar