Postcard from (2015)
for kammerorkester chamber orchestra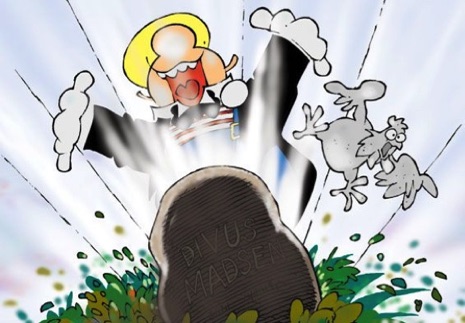 For many years I have had the privilege to work together with Aarhus Summer Opera. This small Danish company keeps up high ambitions, not only on the production of new and untraditional versions of the classical opera repertoire, but also on creating contemporary music theatre.
I wrote for them an opera trilogy based on a novel by the Danish author Svend Aage Madsen: Tugt og Utugt i Melemtiden (Vise and Virtue in the Middle Time). The three operas were given an unforgettable marathon performance in August 2004.
In 2013 I made another spectacular project together with Aarhus Summer Opera: a cartoon opera - probably the first of its kind in the world...
I had made already a couple of other projects together with Ivar Gjørup - the creator of the famous Danish cartoon EGOLAND. And I had for long wanted to transform the odd universe of this strip into a burlesque opera comique.
So in August 2013 we were able to present 1/2LELUJA. A two-act comedy for seven singers and a dancer - and for Randers Chamber Orchestra, who is the ever ready and competent band in the pit of Aarhus Summer Opera.
After the EGOLAND opera, David Riddell (manager of both Aarhus Summer Opera and Randers Chamber Orchestra) asked me to write an orchestral piece based on music from the opera. And thus this caleidoscopic Postcard from EGOLAND was concieved.
The piece is a rhapsodic walk-through of moods and snapshots from the opera.
You can easily tell the cartoon atmosphere, and you will probably be left with a sense of uncertainty - things are not always quite what they look or sound like...
John Frandsen