Poseidon (2016)
Klaverfantasi piano fantasy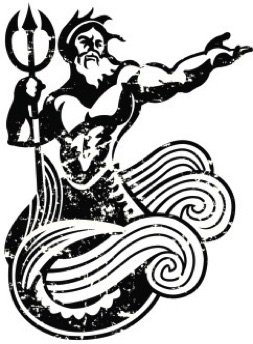 POSEIDON er havets gud i klassisk græsk mytologi. Han er bror til Zeus og Hades, og som arvinger efter deres far Chronos delte de tre verden mellem sig ved lodtrækning, dengang de olympiske guder overtog magten: Hades fik underverdenen, Poseidon fik havet og Zeus fik himlen og kongeværdigheden.
Poseidons våben er treforken, med hvilken han kan bringe jorden til at ryste. Han er en lunefuld og uberegnelig gud. Somme tider er han rolig og mild,  til andre tider tændes hans vrede på et øjeblik. Og da er alting i oprør: bølgerne rejser sig, jorden skælver, undergangen truer. Men grækerne var søfarende folk, og det var nødvendigt at stå på god fod med ham – derfor blev han dyrket overalt i de græske byer.
Denne klaverfantasi kan høres både som et portræt af den temperamentsfulde havgud og som et forsøg på at tæmme ham og hans voldsomme kræfter.
POSEIDON was the god of the sea in ancient Greek mythology. His brothers were Zeus and Hades, and the three of them drew lots to share the universe between them after their father Chronos, at the time where the Olympic gods took over the power. Hades became the ruler of the Underworld, Poseidon was given the oceans and Zeus became the god of heaven and the King of Gods.
Poseidon's weapon is the trident with which he can make the earth shake. He has a complex and quarrelsome character; sometimes he is calm and peaceful, sometimes his anger and temper is awakened in a short second. And when that happens, storms and waves and earthquakes arise and the end of times seems near. But the Greeks were seamen, and they needed to keep good relations to Poseidon, so he was worshipped in every little Greek town.
This piano fantasy can be taken both as a portrait of the temperamental god and as an attept to calm him and tame his extreme power.
John Frandsen