opera i tre akter opera in three acts
bestilt af Det Kgl. Teater
til urpremiere på Gamle Scene
15. marts 2003
commissioned by The Royal Theatre, Copenhagen
world premiere 15. March 2003
conductor: Giordano Bellincampi
directed by: Peter Langdal
set design: Karin Betz
Lightening: Jesper Kongshaug
Published by Edition S
Click here for an English version of the synopsis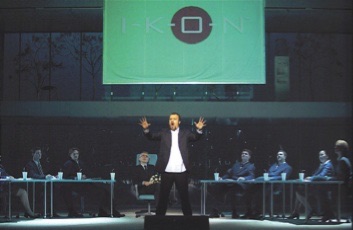 Handlingen
1. akt
Alex Bloch er direktør i I-K-O-N™ corporation. Før bestyrelsesmødet får han sin sekretær til at makulere nogle belastende papirer... underskuddet skal skjules, for et stort nyt projekt skal søsættes. På mødet godkendes regnskabet for januar kvartal - trods revisorens problemer med at præsentere det. Alex introducerer en ny vision om en I-K-O-N™ temapark. Bestyrelsen er begejstrede - ikke mindst da det viser sig, at han er ved at få verdens største medienetværk STAR som partner i projektet. Men planen falder brat til jorden, da STAR kræver, at den kendte kunstner Vincent Konrad skal tegne parkerne. Han er nemlig søn af formanden for bestyrelsen, I-K-O-N™s stifter Ivan Konrad. Og far og søn har mildelst talt ikke det bedste forhold.
Alex Bloch (Johan Reuter) og bestyrelsen
Alex' kone, den feterede operadiva Adda Bloch, datter af stifteren Ivan Konrad og søster til Vincent, er i færd med at varme op. Alex kommer hjem og hjælper hende med at lade op til aftenens gallaforestilling i anledning af I-K-O-N™s 50 års jubilæum; men de afbrydes af Vincent, der kommer brasende ind. Alex benytter lejligheden til at prøve at overtale Vincent til at gå med i sit projekt.
Adda synger sin arie ved gallaforestillingen, og derefter begynder den store celebrity-fest, hvor Alex har travlt med at få alle brikker til at falde på plads i den afgørende aftale med STARs CEO, Jack. Revisoren tager mod til sig og prøver at invitere sekretæren Linda med til Paris. Alt synes at rotte sig sammen mod Alex' projekt. Vincent har et ubehageligt sammenstød med sin far, og Jack beder Alex om en bankgaranti, før han kan indgå aftalen. Heldigvis er sekretæren som altid parat til at hjælpe.
2. akt
Revisoren gennemgår Logens indvielsesritual, og Alex presser ham til at skaffe en bankgaranti ved hjælp af en falsk hensigtserklæring fra STAR. Vincent og hans elskede Cho-Cho-San maler hinandens kroppe, da Alex kommer for at bruge atelieret til at præsentere sit projekt for Jack. Vincent prøver at undslå sig, men Alex ved præcis hvordan han udnytter andres taknemmelighedsgæld. Jack er begejstret for projektet, men må lige tjekke med sin bestyrelse, før han kan skrive under.
Inderkredsen gennemgår forløbet af I-K-O-N™s forestående generalforsamling. Revisorens sære opførsel får Adda til at fatte mistanke, og hun presser ham til at fortælle om det bedrageri, som han og Alex er i færd med. Hun forsøger at få en forklaring fra sin mand, men forgæves. De generalforsamlingen går i gang, er revisoren forsvundet. Kort efter ankommer to betjente. Alex bliver arresteret.
3. akt
Alex Bloch er i fængsel, hvor hans svigerfar Ivan Konrad besøger ham for at finde ud af, hvad der er sket. På børsen er investorerene i oprør over nyheden om Alex' arrestation. I-K-O-N™s aktiekurs rasler ned. Vincent og Cho-Cho-San besøger Alex i fængslet - og Alex får en genial idé...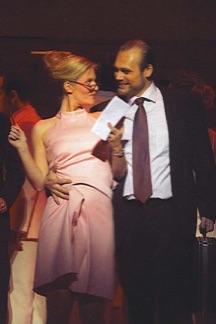 Linda (Gisela Stille) og Jack
(John Lundgren) ved gallafesten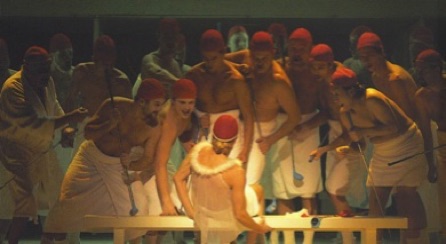 Revisoren (Gert Henning Jensen) gennemgår optagelsesritualet til Logen (Det Kgl. Operakor)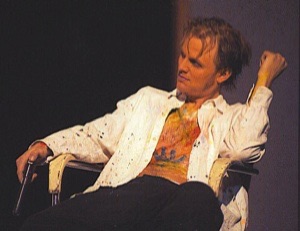 Vincent (Michael Lindberg) i sit atelier.
Rollen indbragte Michael Lindberg en Reumert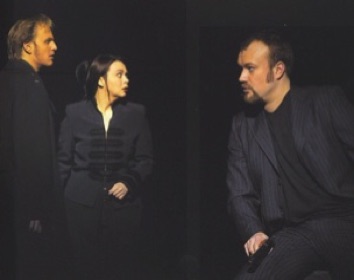 Vincent (Michael Lindberg) og hans muse Cho-Cho-San (Djina Mai-Mai) besøger Alex (Johan Reuter) i fængslet
Medvirkende ved urpremieren
Mogulen, Alex Bloch Johan Reuter
Divaen, Adda Bloch Anne Margrethe Dahl
Formanden, Ivan Konrad Sten Byriel
Kunstneren, Vincent Konrad Michael Lindberg
Revisoren, Peter Panikowski Gert Henning Jensen
Sekretæren, Linda Gisela Stille
Musen, Cho-Cho-San Djina Mai-Mai
STARs CEO, Jack John Lundgren
Dørmanden Ole Sørensen
Fængselsbetjenten Ole Hedegaard
Det Kgl. Operakor
Det Kgl. Kapel
Dirigent: Giordano Bellincampi
Pressen skrev:
Meget af det gode (...)
Med en ny helaftensopera har librettisten Sanne Bjerg og komponisten John Frandsen mere end retfærdiggjort deres adkomst til nationalscenens store ressourcer.
Knud Ketting, Morgenavisen Jyllands-Posten
Stjerner for en aften (...)
John Frandsen og Sanne Bjerg har grundigt gennemtænkt genrens vilkår og respekteret dem. Trods sit utraditionelle emne er I-K-O-N™ en vaskeægte opera i gammeldags forstand: højdramatisk, konfliktfyldt og tragisk med stærke karakterer og livsomvæltende problemstillinger, nedrigt bedrageri, splittet loyalitet og uskyldige ofre (...)
Musikken udtrykker sig med prisværdig klarhed. Uden direkte at skrive stort anlagte melodier er Frandsen ikke bange for at skrive melodisk for stemmerne, der smyger sig naturligt om sproget. Han animerer orkesteret med en betydelig rytmisk vitalitet og binder strukturen så klart til det dramatiske forløb, at man næsten kan tale om en nummeropera, der tydeligt signalerer, hver gang noget nyt og vigtigt er på færde.
Også de vekslende stemninger kommunikeres effektivt; fra firmaåndens hektisk opstemte adrenalinpuls, der kulminerer, når bestyrelse og genralforsamling skal føres bag lyset, over de vittigt pointerede overfladereplikker, den amerikanske partners transatlantiske accent, logebrødrenes Brittensk skarptskårne kor efter trommernes rituelle indledning, den erotiske intimitet mellem kunstneren og hans thailandske muse, den diskrete eksotisme i hendes vise om "The Yellow Emperor's Time", der som Sentas ballade hos Wagner sammenfatter operaens centrale tematik, og fængselscellens askegrå tristesse, til slutningens symbolske reminiscenser af Puccini-arien 'Vissi d'arte', som direktørfruen tidligere har optrådt med. Og ind imellem flotter Frandsen sig med klicheer som tango og musicalkor.
Jan Jacoby, Politiken
I-K-O-N … is a satire guaranteed to make any investor laugh or cry, depending whether it touches a nerve or a funny bone. The opera is hit-or-miss at striking its target, but its best moments are a hoot. The scene where the company accountant is taken by the CEO to join his golf club and undergoes initiation rights in the sauna brought the house down; and the big showdown at the company's AGM made a splendid grand opera set piece. The music is bustling and eclectic, with shades of John Adams.
Richard Fairman, Financial Times
Click here for an English translation of the Danish reviews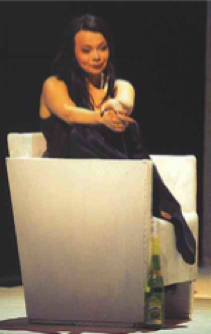 At the Yellow Emperor's Time
Cho-Cho-San's arie fra 2. akt
Odense Symfoni Orkester
Djina Mai-Mai, sopran
Christian Eggen, dirigent
fra cd'en Orchestral Works
Divaen (Anne Margrethe Dahl) synger "Vissi d'arte"
ved den store gallafest for I-K-O-N™ (1. akt, 3. scene)