Carrousel (2012)
for accordion duo
Velkommen med ombord på et kvarters hvirvlende karruseltur i selskab med to virtuose akkordionister. Men pas på, at du ikke bliver rundtosset!
Stykket er skrevet på bestilling af Mythos Duo (Bjarke Mogensen og Rasmus Schærff Kjøller) som i 2011 vandt førsteprisen i den prestigefulde
DR kammermusikkonkurrence. Desværre nåede de to musikere ikke at uropføre værket, før deres samarbejde ophørte et par år senere.
Til gengæld har Bjarke Mogensens folk-gruppe KOTTOS taget værket til sig og bearbejdet det for deres særprægede besætning: blokfløjter, cello, bouzouki og accordion. I denne version uropførtes værket ved en koncert i Gjethuset juli 2016 under Frederiksværk Musikfestival. En liveoptagelse herfra kan høres her.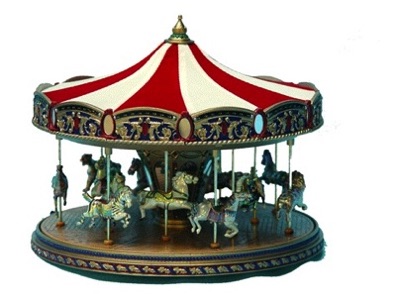 Welcome on board for 15 minutes of whirling carrosel tour in the good company of two accorionists. But at your own risk: it might make your head spin!
The piece was commisioned by Mythos Duo, Bjarke Mogensen and Rasmus Schærff Kjøller. Two talented accordion players who won in 2011 the prestigeous DR chamber music contest. Unfortunately they never managed to premiere the piece before they stopped their collaboration a few years later.
However, Bjarkes folk group KOTTOS adopted the work and made an arrangement of the music for their very unusual combination of instruments: recorders, cello, bouzouki and accordion. This version was premiered by them in July 2016 at Frederiksværk Music Festival. A live recording can be heard here.
John Frandsen
Carrousel - ensemble version
KOTTOS ensemble
live recording July 2016