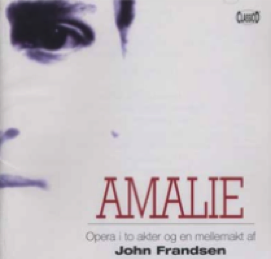 libretto: Niels Pihl
baseret på Amalie Skrams romaner
"Professor Hieronimus" og "På Skt. Jørgen" (1895)
Operaen Amalie blev til i sin oprindelige version i 1983-84 og havde premiere i Århus Festuge september 1984 under titlen "Amalie lever". En del af musikken dannede i øvrigt siden grundlag for Amalie suite (1985) for kammerorkester.
Med henblik på en genopsætning ved Musikteateret "Undergrunden" i Odense, maj 1995 blev operaen gennemgribende revideret. Hele værket blev ominstrumenteret, ja, i mange tilfælde ligefrem omkomponeret; og de otte mellemaktsscener umiddelbart efter pausen blev føjet til.
At foretage en så omfattende bearbejdelse af et gammelt værk er i grunden en kompliceret sag! Det er som at rette i sine gamle breve - eller som at vende tilbage til en gammel kæreste: Man kan godt huske, at det optog én, men man kan ikke helt genkalde sig den oprindelige følelse. Ændringerne har imidlertid forekommet nødvendige og påtrængende, især med henblik på at uddybe og nuancere den psykologiske dimension - det arketypiske - i konflikten mellem Amalie og Professor Pontoppidan.
Det er en konflikt, der kan jævnføres til masser af modsætninger i nutidens dagligliv: Intuition mod intellekt, kunst mod videnskab, kvindeligt mod mandligt, nat mod dag. Den finder i operaen sin musikalske parallel i modstillingen mellem det atonalt ekspressive og den velordnede tonalitet.
Ask for English version of this programme note
Urpremiere (instr.: Niels Pihl)
under titlen "Amalie lever"
Musikteateret Undergrunden
Århus Festuge, september 1984
Premiere (instr.: Niels Pihl)
på revideret version: "Amalie"
Musikteateret Undergrunden
Rosenhaven Odense, maj 1995
Repremiere (instr.: Vigga Bro)
Den Anden Opera, København
februar 1998
cd-indspilning af sidstnævnte produktion på Classico
Pressen skrev:
Det her er musik, der bryder sin spændetrøje. Moderne. Melodisk. Mærkelig. Og meget, meget smuk. (...)
John Frandsens musik er enkel. Den er en stemningsgobelin, der væver drøm og mareridt sammen, bliver bedre og bedre forestillingen igennem, og som til slut, meget smukt, løfter sin hovedperson, hele forestillingen og os, tilhørerne, ud af mørket.
Birgitte Grue, B.T.
John Frandsens ekspressive musik beskriver Amalies tilstand i hvinende klangbilleder og pågående rytmer, vekslende med små melodiske humoresker og klangskønne ledemotiver. Voldsom musik, der kontrasterer det storladne og rørende på overraskende vis.
Lilo Sørensen, Dagbladet Aktuelt
Nuancerne næres af John Frandsens musik, der, glimerende forvaltet af Storstrøms Kammerensemble og dirigenten Kaare Hansen, kombinerer en harmonisk facetteret og rytmisk smidig modernisme med brug af stilcitater som karakteriseringsmiddel.
Jens Brincker, Berlingske Tidende
Komponisten John Frandsen skriver som en anden Richard Strauss for sangstemmer, det lyser og klinger og bevæger sig kammermusikalsk ind og ud af det fine, gennemsigtige netværk, der sættes op i orkesteret.
Gregers Dirckinck-Holmfeld, Ekstrabladet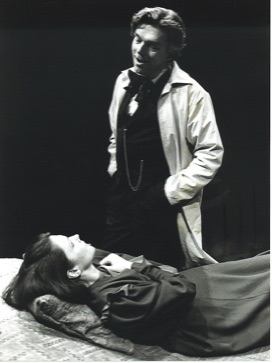 Sten Byriel (Professor Pontoppidan) og Nanna Brincker (Amalie) i Den Anden Operas opsætning februar 1998
Artikel af operaens librettist og instruktør Niels Pihl
leder af "Musikteateret Undergrunden"
"AMALIE" bygger på en virkelig begivenheded: Forfatteren Amalie Skrams tvangsindlæggelse og mislykkede behandling i det psykiatriske system omkring år 1900.
Men det begyndte egentlig et helt andet sted. Da vi med "Poppæas kroning" havde arbejdet med opera som "stiliseret tale", sådan som den tidlige barok-opera brugte det i sin recitativiske stil, ville vi vende bøtten og angribe genren fra en helt anden side.
Sommetider er opera helt løsrevet fra ordet, og sommetider er dens ord meningsløse. Underbevidstheden får mæle, og i opera kan musikken hjælpe det meningsløse til at få mening.
Vi taler om en klassisk opera-effekt: Vanvidsscenen.
Ganske vist er det ikke operaen, der har opfundet den. Og alle vanvidsscener står nok i gæld til Shakespeare. Men selv Ofelia kunne ikke klare sig uden at synge. Og i det tidlige 19. århundrede blev operaens vanvidsscener til en enestående syntese af sangligt praleri og musikalsk udtryksfuldhed, som i "Lucia di Lammermoor" og "Puritanerne".
Hvis vanvidsscenerne bare skulle fungere som musikalsk virtuoseri, var det egentlig ikke vores sag. Det vidste vi, at andre gjorde bedre. Men de rummede også en dramatisk sandhed, som kildrede:
Hvad er sindssyge? Det er jo ganske enkelt - det er at man opfører sig sådan, at andre ikke kan leve med det. Men er det de andre, eller er det den sindssyge, den er gal med? Kender den sindssyge, som nogen kulturer tror, en dybere sandhed, som vi "normale" er nødt til at lukke af for? Er den sindssyges hjerne virkelig syg, eller er den bare ude af stand til at håndtere en sindssyg verden? Er det forkert at være selvdestruktiv, når omgivelserne er uudholdelige?
Psykiatere har let ved at svare. Deres job er at helbrede de sindssyge. Men mange kunstnere har lige så let ved at svare det modsatte. Deres job er at forstå deres medmennesker.
Vi var med andre ord blevet lokket ind i antipsykiatriens problematik - ikke som deltagere, men som iagttagere.
Projektet blev skitseret i 1979, og henlagt. Vi havde alt for travlt, og der var ikke penge til det. Men nogle år senere tog vi det op, og indkaldte to komponister til samtale. Vores tanke var, at polariseringen mellem galskab og normalitet skulle understreges ved, at de delte scenerne mellem sig.
Komponisterne kunne hurtigt se, at de bare var spændt for en dramaturgisk vogn, og den ene trak sig høfligt. Men den anden, John Frandsen, var med på ideen - bare vi lavede noget andet end det vi havde foreslået! En ide kom op: vi kunne bruge dokumentarisk materiale, bygge operaen på virkelige "case-stories"...
Jeg tror ikke, nogen kan huske, hvordan Amalie Skram kom ind i billedet. Men hun fik ikke lov at slippe ud igen. Hendes to bøger om sin indlæggelse, "Doktor Hieronymys" og "På Skt. Jørgen", var fulde af scener, som umådelig let lod sig dramatisere, og fulde af farverige og skarpt tegnede figurer af både sindssyge og normale.
Det blev aftalt, at teksten kun måtte bestå af autentiske replikker. Jeg gik i gang med dramatiseringen. Højst halvdelen af min tekst kom med i den færdige opera - det var ingen skade til.
Til gengæld blev handlingen løftet ud af sin dokumentariske sammenhæng. I stedet for bogens handling udspillede konflikterne sig i en følge af "nætter" (hvor vanviddet fik frit løb) og "dage" (hvor behandlerne satte dagsordenen). Det var faktisk en plan, som var direkte overtaget fra den første skitse fra 1979!
Undervejs følte vi, at psykiatrien kom for lidt til orde, fordi alt var set gennem Amalies øjne. Vi læste gamle psykiatriske lærebøger for at forstå Amalies modpart, professor Pontoppidan. Uddrag af hans bog med retspsykiatriske erklæringer kom med, ligesom citater fra de uhyggelige forfattere, som må have været hans pensum i studietiden: Lombroso, Krafft-Ebbing.
En, for mig meget stærk og effektiv scene, lod en dødtræt, men pligtopfyldende, Pontoppidan sidde ved nattetid og forfatte disse erklæringer, krydsklippet med en Amalie i dyb krise over den skriveblokering, som førte til indlæggelsen.
Et andet højdepunkt var Amalies monolog efter udskrivelsen. Her gik vi helt væk fra de to bøger og søgte over i hendes øvrige romaner. Blandt en række af de mest morbide klip fra hendes forfatterskab valgte John en tekst, som var lige så stærk som den var "syg". Sikkert netop en af de tekster, som Pontoppidan anførte for at få hende til at indse, at hun ikke var "normal"!
Til allersidst fik psykiatrien ordet; i en meget senere tekst, som vi dengang ikke kunne identificere, fortalte en videnskabsmand, i form af en tale ved Nobelprisoverrækkelsen, om sin opfindelse af elektrochokket.
Scenografen Annet Birch, hvis sparsomme produktion indbefatter nogen af Undergrundens allerbedste forestillinger, skabte den sceniske ramme uden at kende musikken - den var simpelthen ikke færdigskrevet, mens værkstederne arbejdede! Hendes respons på teksterne var stærkt ekspressionistisk - og som det viste sig, ikke helt i samme tone som det partitur, der efterhånden dukkede frem.
Vi fik The Elsinore Players, under ledelse af Johns kompositionslærer Karl Aage Rasmussen, til at medvirke som orkester ved uropførelsen. Det bestemte orkestrets størrelse, 10 mand (basisbesætningen blev udvidet med trompet og horn).
Uret tikkede - 2. akt var stadig meget kort, og der kunne ikke være tale om udsættelse. I sidste øjeblik kom John med et herligt intermezzo, hvor han udnyttede performer-talentet hos nogle af orkestrets medlemmer i en lang, næsten nodeløs sats, der byggede på - uhyggeligt mandschauvinistiske - citater fra de nævnte psykiatriske lærebøger.
En ung Lars Thodberg Bertelsen medvirkede, og fik på den måde udvidet sin - stumme! - rolle i operaen som Amalies mand.
Produktionen er dokumenteret: En medarbejder fra Danmarks Radio fulgte hele prøveforløbet med sin mikrofon, og forestillingen blev optaget, transmitteret - og tarifmæssigt betalt. Også på den måde tilhører produktionen en svunden tid.
Kritikken af forestillingen var som helhed ikke synderligt nuanceret. Den så næsten kun forestillingen som et antipsykiatrisk debatindlæg - ret utroligt, hvis man nærlæser partituret. Men den havde en morsom pointe: Anmelderne fra Berlingske Tidende og Politiken gentog næsten uforandret de holdninger, deres kolleger havde, da de ved århundredets start anmeldte Amalie Skrams bøger: Berlingske på lægernes side, Politiken på patientens!
Typisk for tiden fik forestillingen tre opførelser. Og det var så det.
Men følelsen af et arbejde, der ikke var gjort færdigt, lå i Undergrunden. Da teatret i starten af 90'erne havde fået større produktionsfaciliteter, tog vi kontakt til komponisten og foreslog, at vi tog stykket op igen.
Den proces blev ikke mindre spændende. John benyttede chancen til at ominstrumentere partituret for 16 mand - en hjertesag for ham - og naturligvis blev det vigtigt at gøre noget ved "hullet" i 2. akt.
En dag sendte han mig nogle gamle tekster - digte, som han mente vi havde fundet til lejligheden dengang, men kasseret. Han spurgte, om jeg anede hvad det var. Jeg kunne ikke mindes, at jeg nogensinde havde set dem før. Men han ville gerne bruge dem. Sådan opstod en stor og meget speciel ny start på 2. akt: Amalie, hendes mand (som nu havde fået stemme, specielt skrevet til Ode Hedegaard) og professoren kom på banen i en fragmentarisk beretning om hendes længsel, doktorens bevidste adskillelse af dem, og mandens svigt - afbrudt af "litanier" fra orkestret og en "forsanger", som aflirede de gamle psykiatriske tekster fra urversionens intermezzo. Alle var enige om, at den nye scene løftede forestillingen op i et helt andet plan.
Scenografen Karin Seisbøll, som havde gennemgået en praktikuddannelse på Undergrunden, afsluttede den med en bemærkelsesværdig scenografi, som udnyttede hele "Rosenhavens" store rum. Ud fra instruktørens ord om, at musikken skulle være det centrale, havde hun anbragt ensemblet fra Odense Symfoniorkester og dirigenten Tamas Veto i en cirkusarena, og ladet handlingen udspille sig på den omliggende pist. Omkring alt - også publikum - var bygget et gigantisk bur, som lukkede alle inde - kun lægerne kunne frit bevæge sig ind og ud. Amalies oplevelse blev projiceret på alle i rummet. Mindeværdigt!
Helt i takt med tidsånden kunne man konstatere, at modtagelsen nu handlede mere om operaen som kunst end som debatindlæg - selvom en forestilling, hvor en gruppe modstandere af den gængse psykiatriske behandling var tilstede, og deltog i en meget givende og positiv debat efter forestillingen, var undtagelsen.
Ingen var nu i tvivl om John Frandsens potentiale som operakomponist, heller ikke Undergrundens uundværlige praktikant Kasper Holten, som senere omsatte begejstringen i bestilling af "Tugt og Utugt i Mellemtiden" til Aarhus Sommeropera, og "Ikon" til Det Kgl. Teater.
"Amalie" blev senere nyopsat på Den Anden Opera i København, og den opsætning blev indspillet og udgivet på CD. Af vores fynske uropførelse findes der (teknisk ganske vellykkede) dokumentaroptagelser i Undergrundens arkiv.
Niels Pihl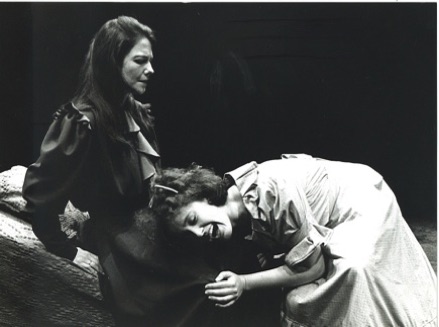 Nanna Brincker (Amalie) og Kristina Wessman (Frk. Thomsen)
Den Anden Opera, februar 1998
Åbning af 2. akt
Irene Graaner (frk. Hall) og
Katarina Wessman (frk. Thomsen)
Storstrøms Kammerensemble
Kaare Hansen, dirigent